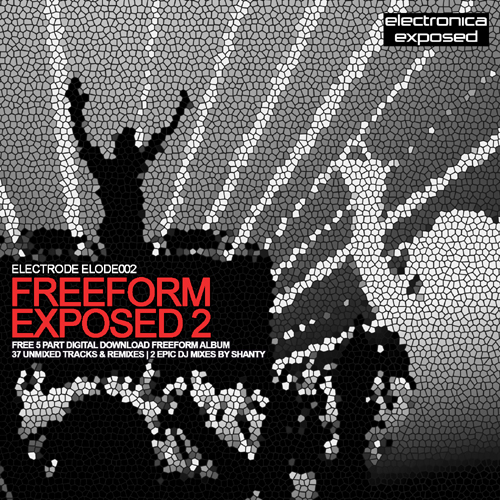 FREEFORM EXPOSED 2
Electrode | ELODE002 | Digital Download | 04.02.2013-15.04.2013 | Freeform

Freeform Exposed 2 is a free 5 part digital download freeform album in celebration of 10 years of Electronica Exposed. The album features 37 incredibly diverse and innovative, underground freeform dance music tracks and remixes from artists: Shanty, Penguin Conspiracy, Epyx & Cyrez, Firefly, Pulse, Transcend, Greg Peaks, Haze, Olly Addictive, Wyrm, Surtr, Carbon Based, Qygen, Electrux, Jerv, 3star, Guld, Nightforce, Twisted Freq, Optimise, Ionosphere, Defnoyz, Audio Warfare, Substanced, Digital Anarchy, Tazz, DOK, Ruffage, Size, Chwhynny, Sonic, Leigh Outrage, Denile and AC Slater!

Freeform Exposed 2 is split into 5 parts, all of which have been professionally mastered. The first two parts are two epic DJ mixes by freeform legend and EE owner Shanty, and the final three parts feature all 37 tracks and remixes in unmixed format, perfect for DJ use. Each part of the album will be available in full quality 16-bit wav and reduced quality 320 kbps mp3 formats. Electronica Exposed recommends that mp3s should be downloaded for use on mobile devices only. Wavs are the recommended choice for DJs and for all other use. The release schedule for all 5 parts is listed below.

Freeform Exposed 2 is the second and final release on Electronica Exposed's free download label Electrode. EE head honcho Richard Andrews states:

"Freeform Exposed 2 is the biggest freeform project that Electronica Exposed has ever released, and given that the label has been at the forefront of the freeform scene for nearly 11 years, and has released many innovative projects, that's quite a statement! When the first Freeform Exposed album was conceived, the hope was that these free albums released through Electrode would allow EE to continue to release exciting projects whilst maintaining the exceptionally high quality control standards from our physical products. Also by no longer manufacturing products as sales were incredibly low (average sales were shockingly only 10% of similar albums on other freeform labels!), costs were significantly lower and so even giving away a free album, the likelihood was that each album would actually lose EE less money (and believe me EE has lost obscene amount of money over the years)!

This was still an insane strategy, but the hope was that by kindly requesting people to donate and stating our reasons for this, enough people would understand that the album cost a lot of money and by donating they were helping to minimise these costs and make future albums more likely (even though noone was under any obligation or expectation to donate). Unfortunately, costs were even higher than originally expected (the UK exchange rate did not help) and although a few people very kindly donated to the project, the donations received barely minimised costs.

By this time, Freeform Exposed 2 was already being compiled, so I decided to continue and do one final kick ass album that would redefine how truly epic a freeform album can be! An album that I couldn't ever see myself being able to match or beat! So that after 11 years and more than a few farewell announcements, I could finally move on to other things with my life, which especially as the years progress become increasingly important! So this will definitely be the last EE freeform album!

I really am monumentally proud of Freeform Exposed 2! All of the artists produced so much exceptional music that it is a supreme pleasure to be able to release it all! There is so much diversity, hopefully it will be inspiring to all of other producers and labels in the freeform scene. For the next 2 weeks, I'll be uploading 10 teaser clips to the Electronica Exposed Soundcloud page before the 5 parts of Freeform Exposed 2 are released through February, March and April. The tracklist for each part will be announced when it is available to download! The fifth and final part is being released on the exact 11 year anniversary of EE's debut release and it seems like the perfect day to say farewell to freeform! I really hope that everyone who downloads Freeform Exposed 2 enjoys it immensely as that would make all the effort worthwhile. And if any of you wish to kindly donate to this project, that would be most welcome!

ENJOY!"