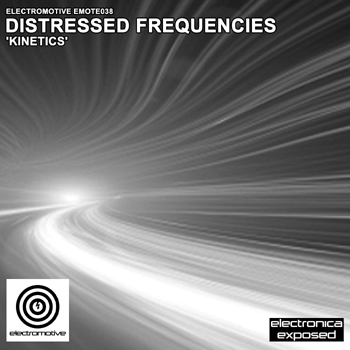 DISTRESSED FREQUENCIES 'KINETICS'
Electromotive | EMOTE038 | Digital Download | 7:05 | 22.12.2014 | Freeform

Older trancecore fans will remember Distressed Frequencies from his collaboration with Shanty on 'Forward Motion' on Digital Beats and his solo composition 'Victimised' on Nu Energy, which were both released in 1999. Distressed Frequencies is Harry Diamond who has since gone on to release many huge releases on labels including Nukleuz, Anjunabeats, Tidy Trax, Interflow Sounds, Maelstrom and Azuli, has collaborated with Nick Sentience, Darren Tate, Cern, David Pannell, Jim Sullivan and Vince Nysse, and has been a member of groups such as Ca-Lo, Cajun, My Digital Enemy and the chart topping Sunset Strippers! In 1998 and 1999, four Distressed Frequencies compositions were written and at least two of them were tentatively scheduled for release on Digital Beats before the label closed. Electromotive is proud to release all four compositions for the very first time! 'Kinetics' is the fourth and final release and features gated vox, distorted whoops and building acid trance stabs, before a truly emotional breakdown leads into anthemic synth heaven! 'Acid Oceans', 'Dark Ocean' and 'Distortion' by Distressed Frequencies are the previous three Electromotive releases!

>> TRACKLIST

01. Distressed Frequencies 'Kinetics' [MP3]

>> DOWNLOAD

-> FULL QUALITY 16-BIT WAV DOWNLOAD (71.4 MB)
-> REDUCED QUALITY 320 KBPS MP3 DOWNLOAD (16.2 MB)

>> ARTWORK DOWNLOAD

-> FULL QUALITY 300 DPI JPG DOWNLOAD (541 KB)

>> DONATE

Please click the button below to make a donation via PayPal. All donations are greatly appreciated!

>> CREDITS

℗ 2014 Electronica Exposed. © 2014 Electronica Exposed. All rights of the producer and of the owner of the works reproduced reserved. Unauthorised copying, hiring, lending, public performance and broadcasting of this record is prohibited. The copyright in this sound recording is owned by Electronica Exposed. Released and produced by Electronica Exposed. Distressed Frequencies 'Kinetics' is licensed under a Creative Commons Attribution-NonCommercial-NoDerivs 3.0 Unported License.

Executive production by Richard Andrews. Mastered by Robin Petras at PureFocus Mastering, Canada. Artwork by Richard Andrews.

01. Written by Harry Diamond. Produced by Harry Diamond. Engineered by Chris Hampshire. Recorded at Interflow Sounds, Brighton. Published by Copyright Control.