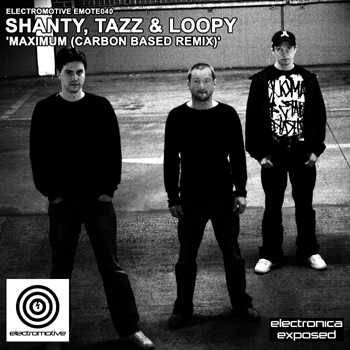 SHANTY, TAZZ & LOOPY 'MAXIMUM (CARBON BASED REMIX)'
Electromotive | EMOTE040 | Digital Download | 7:43 | 29.12.2014 | Freeform

Fans of the legendary Digital Beats trancecore and freeform imprint will remember Shanty, Tazz & Loopy's epic 'Maximum' from the Time Crisis EP, which was released on vinyl in 1998 and was later released on CD and digital download on Electronica Exposed in 2008. Just before Digital Beatz closed in 2005, Shanty and Tazz had been planning on adding Carbon Based to their artist rosta and commissioned Carbon Based to remix 'Maximum' in their unique Finrg style. The remix was pretty much completed in either late 2004 or early 2005, but there were some minor adjustments to be made and for whatever reason, there was never a definitve version of the remix. Whilst searching for unreleased gems in the Electronica Exposed archives, Shanty rediscovered the remix and asked Toni from Carbon Based about releasing it. After searching through his own archives, Toni found the original stems and completed a super fresh mixdown based on them. Toni did an absolutely amazing job to make the remix sound the best it ever has, and it's one hell of a remix! Using the original elements, the Carbon Based Remix takes a very different approach to the original, becoming a more melodic, epic journey complete with trademark, filtered Finrg synths, heavy acid stabs and a new, atmospheric lead melody! Electromotive would like to publicly thank Toni for his amazing work and is delighted to finally unleash this unreleased freeform classic!

>> TRACKLIST

01. Shanty, Tazz & Loopy 'Maximum (Carbon Based Remix)' [MP3]

>> DOWNLOAD

-> FULL QUALITY 16-BIT WAV DOWNLOAD (77.8 MB)
-> REDUCED QUALITY 320 KBPS MP3 DOWNLOAD (17.6 MB)

>> ARTWORK DOWNLOAD

-> FULL QUALITY 300 DPI JPG DOWNLOAD (1.24 MB)

>> DONATE

Please click the button below to make a donation via PayPal. All donations are greatly appreciated!

>> CREDITS

℗ 2014 Electronica Exposed. © 2014 Electronica Exposed. All rights of the producer and of the owner of the works reproduced reserved. Unauthorised copying, hiring, lending, public performance and broadcasting of this record is prohibited. The copyright in this sound recording is owned by Electronica Exposed. Released and produced by Electronica Exposed. Shanty, Tazz & Loopy 'Maximum (Carbon Based Remix)' is licensed under a Creative Commons Attribution-NonCommercial-NoDerivs 3.0 Unported License.

Executive production by Richard Andrews. Mastered by Robin Petras at PureFocus Mastering, Canada. Artwork by Richard Andrews.

01. Written by Richard Andrews, Daniel Taylor and Luciano Taiani. Produced by Richard Andrews, Daniel Taylor and Luciano Taiani. Engineered by Jason Holloway [UFO]. Remix and additional production by Toni Eronen. Published by Copyright Control.